28 Apr

Can I get Dental Implants?
Am I a candidate for dental implants?
Generally speaking, if you have lost teeth you are a candidate for dental implants. It is important that you are in good health, however, as there are some conditions and diseases that can affect whether dental implants are right for you. For example, uncontrolled diabetes, cancer, radiation to the jaws, smoking, alcoholism, or uncontrolled periodontal (gum) disease may affect whether dental implants will fuse to your bone. It is important to let Dr. Michel know all about your medical status (past and present) together with all medications you are taking, whether prescribed, alternative (herbal) or over-the-counter. Here is some more great information from dentalimplant.com.
How and why is bone lost when teeth are lost?

Bone needs stimulation to maintain its form and density. In the case of alveolar (sac-like) bone that surrounds and supports teeth, the necessary stimulation comes from the teeth themselves. When a tooth is lost, the lack of stimulation causes loss of alveolar bone. There is a 25% decrease in width of bone during the first year after tooth loss and an overall decrease in height over the next few years.
The more teeth lost, the more function lost. This leads to some particularly serious aesthetic and functional problems, particularly in people who have lost all of their teeth. And it doesn't stop there. After alveolar bone is lost, the bone beneath it, basal bone — the jawbone proper — also begins to resorb (melt away).
How can bone be preserved or re-grown to support dental implants?
Grafting bone into the extraction sockets at the time of tooth loss or removal can help preserve bone volume needed for implant placement. Surgical techniques are also available to regenerate (re-grow) bone that has been lost, to provide the necessary bone substance for anchoring implants. In fact, a primary reason to consider dental implants to replace missing teeth is the maintenance of jawbone.
Bone needs stimulation to stay healthy. Because dental implants fuse to the bone, they stabilize it and prevent further bone loss. Resorption is a normal and inevitable process in which bone is lost when it is no longer supporting or connected to teeth. Only dental implants can stop this process and preserve the bone.
How are dental implants placed?
Placing dental implants requires a surgical procedure in which precision channels are created in the jawbone, often using a surgical guide. The implants are then fitted into the sites so that they are in intimate contact with the bone. They generally require two to six months to fuse to the bone before they can have tooth restorations attached to them to complete the process.
What are the options for implant tooth replacement?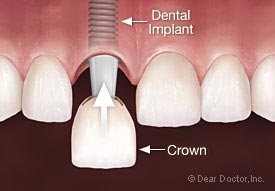 Single Tooth Replacement: Immediately (at the same time an implant is placed) or after a period of healing, an abutment is attached to the implant. This is a device that "abuts" or joins the implant to a tooth form called a crown, which replaces the tooth part you see in the mouth. It will hold a custom-made crown that the dental laboratory will fabricate and match to your existing teeth. The custom crown is cemented or screwed onto the abutment to permanently keep it in place. Once the crown is in place, it should be indistinguishable from your natural teeth.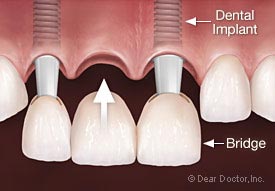 Fixed Multiple Tooth Replacement: As with single tooth replacement, temporary healing caps or abutments may be placed on multiple implants until the healing phase is complete. After healing, permanent abutments are attached to the implants. They can attach to custom-made crowns or bridgework that a dental laboratory will fabricate to match your existing teeth. In the final step, the custom bridge, which will replace multiple teeth, is cemented or screwed onto the abutments. The teeth have been replaced without disturbing the healthy teeth next to them, and bone loss has been halted.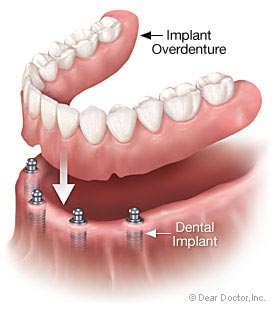 Removable Implant-Supported Tooth Replacement: If all of your lower teeth are missing, depending on the design of the removable restoration, two to six implants may be used to support a lower denture. If all of your upper teeth are missing, a minimum of four implants may be used to support an upper denture. Removable dentures are often used to replace extensive tooth, bone and gum-tissue loss, thus providing support for the facial skeleton, lip and cheeks. A new denture can have attachments that snap or clip it into place on the implants or a custom made, milled bar can be fabricated to create additional strength and support for the restoration. Design variations are often related to your bone density and number of implants present; Dr. Michel will discuss these options during your consultation. A significant advantage of a removable denture is facilitating the cleaning of the dental implants.
How do implant tooth replacements differ from teeth?
Natural teeth and dental implants may look the same, feel the same, and even function in a similar way, but they are very different. The most important differences are in the way they attach to the surrounding bone, their response to dental disease, their maintenance, and repair.
Teeth are susceptible to dental decay as well as the need for root canal therapy; dental implants are metal and do not decay or need root canal. Teeth may also be susceptible to periodontal (gum) disease, while dental implants may be susceptible to peri-implantitis, an inflammatory response to bacterial biofilm of the tissues surrounding the implant, which can result in disintegration of the bone to the implant.
What type of maintenance do dental implants require?
Implants do require maintenance. It is important to practice good daily oral hygiene, including brushing and flossing to control bacterial biofilm. It is also important to come in for regular cleanings and exams. Special instruments are necessary to clean dental implants that will not damage their metal surface beneath the gum tissues. Dr. Michel will need to monitor your implants to make sure the integrity of the osseointegration is stable, and that the implant crowns, bridgework or dentures are functioning adequately.
If you are interested in dental implants Dr. Michel would love to meet with you for a consultation.  Our amazing front desk staff will gladly look into your insurance and explain all costs of treatment. Implants can restore smiles and quality of life.  Give us a call today!